The birth of a child is a beautiful miracle, but some mothers struggle with post-pregnancy physical effects like excess skin.
A mommy makeover can rejuvenate your look and confidence by combining several transformative procedures.
Vive Plastic Surgery's stellar mommy makeovers have helped turn Tijuana, Mexico, into a popular medical tourism destination.
Our mommy makeovers are safely performed by skilled plastic surgeons. We coordinate the entire experience for you, from meeting us in America through your whole time in Tijuana, Mexico. To choose a mommy makeover that will improve your body while being totally affordable, all you have to do is call (619) 816-2525 or write to us today.
Our Work Makes People Happy
They Came to Tijuana, Mexico
From the staff to the service, everything was outstanding and extremely professional! I love my results and I love Vive! dr Guadalajara was the most professional and kind doctor. He was patient and really took the time to understand what I wanted. The nurses treated me like family and I felt very comfortable and safe. This is my second time at vive and I will never go anywhere else. Also thank you to Liz G and Jocelyn for the best nurses!
View On Google
They were incredible, very attentive, they helped me with all my doubts before and after the surgery. I had a gastric sleeve with Dr. Sleeve because my BMI was very high, I am preparing to have my MMO surgery with them, I also love going to fillings at VIVEMEDSPA every 6 months.
View On Google
Why Is Medical Tourism so Popular?
Find out what so many already have
Every year, millions of Americans make the decision to travel to a foreign country to receive health care. This is known as medical tourism. The primary reason so many make this choice is its incredible financial benefits. The simple act of crossing the border can allow you to obtain medical treatment that is of the same high-quality American doctors provide, at a fraction of the cost.
See What Others Have to Say
About Our Tijuana, Mexico Team
Hello. I would like to share my experience with VIVE. I had surgery 5/24/21. My overall experience was wonderful. The staff and Drs were really nice the whole time. I loved how when I went to the Operating room there were a few women working in the area. I'm proud to be a VIVE doll. HIGHLY RECOMMEND
View On Google
The staff and doctors at Vive are amazing. Their recovery house was the best experience the nurses were all caring and helpful. I would definitely recommend Vive.
View On Google
What Does a Mommy Makeover
Procedure Involve?
Some women want to return to their pre-pregnancy look, while others desire a body that beats how they looked in the past. Every patient's care is unique. We evaluate your needs and work to understand exactly what it is you want to achieve with your mommy makeover surgery. Breast augmentation, liposuction, and tummy tucks are among the most commonly requested mommy makeover plastic surgeries we offer.
Breasts are one of the areas most impacted by pregnancy. We offer multiple remarkable breast augmentation procedures that many women desire. Our implants can provide you with a shapely, even bust of the shape you desire. Our breast lifts are a more discreet option that still provides great transformation. A breast lift is focused on improving perkiness.
Liposuction
By receiving liposuction you can say goodbye to stubborn, unwanted fat. We use elite technology for our body contouring liposuction that can remove pounds from your buttocks, tummy, thighs, hips, neck, and arms. Over 200,000 liposuctions are performed annually just in America. By coming to us in Tijuana, Mexico you can shed pounds without the heavy price tag.
Post-pregnancy, many women struggle with a flabby tummy. Tummy tucks take care of this issue by tightening abdominal muscles and removing targeted midsection fat. This gives your tummy a more toned, attractive look. Tummy tucks can also strengthen abdominal muscles that have been weakened or separated.
See Our Results for Yourself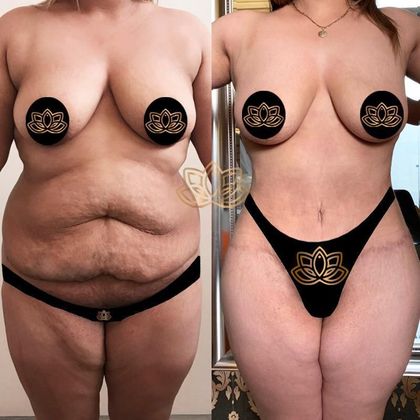 An Important Insurance Note
We pride ourselves on being straightforward and honest regarding all aspects of our treatment. You should know that insurance does not cover the procedures involved in a mommy makeover unless you have a medical health reason for removing fat or skin. That being said, insurance is hardly a worry for patients who are saving so much by treating with us instead of higher-priced American doctors.