Are you unhappy with the shape and size of your breasts? Are you searching for a natural-looking solution to boost your confidence?
Breast augmentation can alter the shape, size, and proportion of your breasts to enhance your figure.
Our board-certified plastic surgeons in Tijuana, Mexico, can give you natural-looking implants that will restore your self-esteem.
The Benefits
Of Breast Augmentation
Enhanced Figure
Breast augmentation changes your breasts' size, shape, and symmetry to fit your body giving you a more feminine figure and enhancing your curves.
Customized Treatment
You will have a consultation with one of our experienced plastic surgeons so they can determine the size, shape, and placement that will best suit your needs and produce the most natural-looking results.
Boosted Confidence
A small, asymmetrical, or sagging bustline can affect your confidence. Breast augmentation can significantly impact your quality of life by giving you an overall feminine figure and boosting your self-esteem.
Life-Changing Results
From Our Board-certified Plastic Surgeons
Do You Need
Breast Augmentation
Or a Breast Lift?
Some patients do not need to undergo breast augmentation surgery to achieve their desired aesthetic goals. Sometimes a breast lift is enough to enhance your natural shape and eliminate any sagging or drooping. Contact our Tijuana, Mexico, practice to learn more.
Are You Looking To Boost Your Confidence?
Contact Vive Plastic Surgery Today
Our entire staff in Tijuana, Mexico, understands how plastic surgery can change people's lives. Being comfortable in your skin can give you the confidence to excel in all aspects of your life. From our receptionists to our plastic surgeons, we are there to put your mind at ease and make the entire process as smooth as possible.
We enjoy getting to know our patients and their needs so we can provide the best, most natural-looking results.
Contact our Tijuana, Mexico, practice today to learn more about how breast augmentation with us can change your life.
Patients From the U.S. and Mexico Trust Us
"Professional and safe"
Professional and safe, great results I'm glad I chose this place. I would recommend. Recovery house is a must as well.
View On Google
I had a really good experience with Vive Plastic Surgery. I love my results❤️❤️❤️❤️❤️❤️❤️
View On Google
Saline V. Silicone Implants
Why Our Practice Chooses Silicone Gel
Our practice offers natural-looking and feeling cohesive silicone gel implants, which many patients prefer. The size and shape of these breast implants can be customized to meet your aesthetic goals and accentuate your figure.
Saline Implants
Saline implants are filled with sterile salt water that can be safely absorbed by the body if a leak or rupture occurs. However, saline implants do not feel or look as natural as the silicone.
Silicone Implants
Silicone implants are filled with silicone gel that replicates the look and feel of natural breasts better than saline. They are form stable meaning they will maintain their shape when cut in half.
Individualized Breast Augmentation
Our Breast Implants are Customized to Meet Your Aesthetic Goals
During your consultation, one of our Tijuana, Mexico, based surgeons will go over your medical history and aesthetic goals. This will help them to determine which size, shape, placement, and incision option will best suit your needs.
The Size of Your Breast Implants
The volume of your breast implants will determine your breast size and how big you want your breasts to look after your breast augmentation procedure. Our plastic surgeons will also take into consideration the profile of your implants while determining the size. The profile refers to how much of the breast implant will protrude from your chest wall. Our experienced surgeons will find the right size and profile for your breast implants that will give you the most natural-looking results.
The Shape of Your Breast Implants
Breast implants come in one of two shapes, round or teardrop. A round shape can give you a voluptuous result with enhanced cleavage, while the teardrop shape has a more gradual slope that gets fuller towards the bottom. The teardrop shape mimics the look of natural, perky breasts while the round shape gives the patient fuller breasts with maximum cleavage. Which shape is right for you depends on the end results you are wanting.
The Placement of Your Breast Implant
The placement of your breast implants has a major impact on how it will look after you heal. With subglandular placement, the breast implants are positioned under the glandular, or breast tissue. This placement may not be suitable for women with thin skin or little body fat as the implant could be visible under the skin. With submuscular placement, your breast implants will be positioned under the pectoral muscle. This is our preferred option as there is a lower incidence of capsular contracture and it creates more natural-looking results.
"I had a Beautiful Experience!
From beginning to end."
I had a Beautiful Experience ! From beginning to end. My surgery went very well with Dr. Felix /Guadalajara Nurses, Drs, and Staff were great! and Then after I was taken to the Vive Recovery House Dinamarca and I had an AMAZING!! Experience...
View On Google
I had my surgery with Dr.Félix Marquez aka Dr.G at Vive plastic surgery in TJ and I'm i love with my results and their service! I know I made the right choice doing my surgery with them they are amazing! All the doctors and nurses are so professional and nice! I had a great experience in general...
View On Google
Contact Vive Plastic Surgery
For Safe Breast Augmentation
Our state-of-the-art facility in Tijuana, Mexico, is equipped with the latest technology in cosmetic surgery. We have patients from the U.S., Mexico, and beyond who choose us for all of their cosmetic surgery needs.
We understand that some patients may feel anxious about undergoing a procedure in a foreign country. That is why we are there for every step of the process. From the time you land through your recovery, our entire staff is there to help you safely achieve your aesthetic goals.
Contact our Tijuana, Mexico, practice today to request your consultation and learn more about surgery at our facility.
The Process
Of Your Breast Augmentation Surgery
More Dramatic Results
Through Breast Augmentation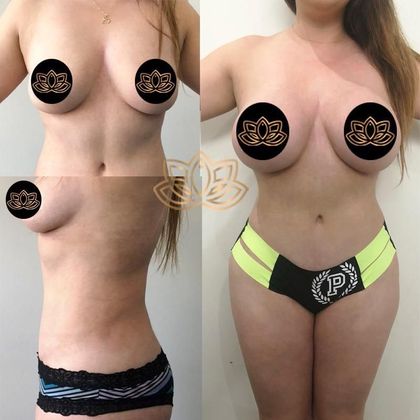 "From the staff to the service,
everything was outstanding"
From the staff to the service, everything was outstanding and extremely professional! I love my results and I love Vive! dr Guadalajara was the most professional and kind doctor. He was patient and really took the time to understand what I wanted...
View On Google
I traveled all the way from Dallas Texas to Doctor Omar Jimenez for my breast augmentation and I don't regret it one bit. Amazing doctor! El mejor doctor! My surgery was last week and I already feel amazing. Every single one of the staff was very nice thank you Vive
View On Google