A Brazilian butt lift, or BBL, is a plastic surgery procedure that can change the overall appearance of your buttocks.
In addition to refining your buttocks, BBL also removes fat from the abdomen, thighs, and other areas of your body using liposuction.
To learn more about the incredible effects a BBL may have, contact Vive Plastic Surgery in Tijuana, Mexico.
What Is a Brazilian Butt Lift?
A Brazilian Butt Lift is a buttocks augmentation procedure. It transfers excess fat to enlarge the buttocks to create a rounder and shapelier rear end.
How Can a Brazilian Butt Lift
Refine My Figure?
Aging, pregnancy, and weight fluctuations can change your figure. If you wish to refine your curves, you may be interested in a BBL.
Brazilian butt augmentation involves liposuction and fat transfer to the buttocks. Unlike a buttock augmentation with a gluteal implant, fat can be placed in more than one area.
Your plastic surgeon can transfer fat to three areas in order to enhance the shape of your butt:
The Buttocks
The Hips
The Thighs
See the results from one of our happy patients.
The Effective Transformation
Of a Brazilian Butt Lift Surgery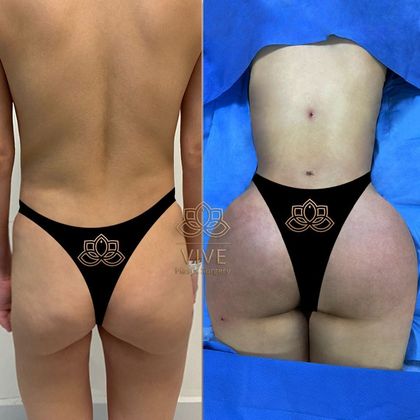 Choosing Our Tijuana, Mexico,
Practice For Your BBL
Comes With Several Key Advantages
​More Affordable Pricing
Cosmetic surgery can often be expensive, especially since elective procedures are not typically covered by insurance. However, our Tijuana, Mexico, office performs the same quality of service at a more affordable price.
High-Quality Care
Our board-certified plastic surgeons are dedicated to learning the latest techniques. They are also internationally educated. Finally, they have performed over 1,200 BBLs, giving them extensive experience with the procedure.
Transportation Services
To make the experience easier for you, we provide transportation services to and from our facilities in Tijuana. Our licensed drivers will safely take you across the border, giving you peace of mind during your journey.
Visit Tijuana, Mexico
For a High-Quality, Cost-Effective BBL
Plastic surgery in the United States can be extremely costly. You may pay more for BBL surgery in America than you would in Mexico. Fortunately, you can still receive the same high standard of care without such a high price tag.
At Vive Plastic Surgery in Tijuana, Mexico, you can affordably pursue your cosmetic goals, such as a Brazilian butt lift and liposuction. Our board-certified plastic surgeons give patients round-the-clock care before, during, and after their procedures.
If you want to learn more about your cosmetic options, contact our office or call:
"I had a beautiful experience!"
Reviews From Our Patients
My daughter had her BBL on 2-4-2021 by Dr Golden Boy and everything went fantastic .

My daughter is very happy with her results .

We stayed in the Quartz Hotel which is brand new and the hospital is 2 blocks away . You drop off your loved one with all the required things that they tell you to bring and either they stay for one week in their recovery facility or they get picked up the next day. Overall it turned out great and it was only 2 1/2 hours to get to Tijuana Mexico.
View On Google
I had a Beautiful Experience ! From beginning to end. My surgery went very well with Dr. Felix /Guadalajara Nurses, Drs, and Staff were great! and Then after I was taken to the Vive Recovery House Dinamarca and I had an AMAZING!! Experience I stayed for 9 days and each and every day was consistent with the correct Care for my surgeries which were ( BBL , CTT, Jplasma And Lipo) All of the Recovery Home Nurses, Staff were very attentive to every detail of my healing process which made me feel at ease. From The Care, to delicious healthy meals and staff I highly recommend Vive ! Thank You Vive for taking Good Care of Me ! See You soon For my Breast Augmentation!
View On Google
Learning More About Fat Transfers
From a Brazilian Butt Lift
Brazilian Butt Lifts
Offer Advantages Buttock Implants Do Not
The advantages of choosing a Brazilian butt lift surgery over buttock implants include:
More natural and attractive results
Smaller incisions
Minimal scarring
A faster recovery time
Fat reduction from liposuction
No risk of implant rejection
Automatically Enjoy the
Benefits of Liposuction
With Your Brazilian Butt Lift
Improve Your Confidence
and Your Figure
At Vive Plastic Surgery
If you do not feel confident in your body, it can lead to daily anxiety or insecurity. However, if you wish to make a change, there is a safer, more natural way to refine your figure: a BBL using fat from your own body.
Our experienced team of plastic surgeons is here to guide you through the exciting possibilities. To learn more about your options, contact our Tijuana, Mexico, office or call:
"Vive makes dreams come true!"
Hear From Our Past Patients
I had my surgery with Dr.Félix Marquez aka Dr.G at Vive plastic surgery in TJ and I'm i love with my results and their service! I know I made the right choice doing my surgery with them they are amazing! All the doctors and nurses are so professional and nice! I had a great experience in general. After my surgery I stayed at Vives Recovery house Dinamarca and i felt in love with the nurses!!!! They help you with everything you need in general and they feed you with really good food. I have an amazing experience with them. I would definitely recommend Vive plastic surgery and Vives recovery house if you thinking on getting surgery. I'm gonna miss everyone!!! ♥️♥️♥️
View On Google
Vive makes dreams come true! Dr Flavio Ochoa is the G.O.A.T!!! Everyone was super kind and helpful. I had no problems with communication or anything. Booking was easy my coordinator was Oscar he is the best! Their care is superb and professional. I literally can't believe these bad reviews and if you're looking to get your body snatched you shouldn't either! I would refer Vive to any and everyone wanting to change their life for the better when it comes to your body. I love my results and I love Vive Plastics!!!! Thank you Dr Ochoa and the whole Vive team!!!! #1!!!!!!
View On Google
Brazilian Butt Lifts Use Your Fat
For Safer, Natural-Looking Results
Silicone implants, fillers, or injectables might yield good results when enhancing the buttocks, but a Brazilian butt lift is safe and reliable. Using your own fat for augmentation purposes reduces the risk of complications. It also helps avoid unsatisfactory results.
Your plastic surgeon can skillfully remove body fat from a problem area via liposuction. Because this fat is a part of your own body, you do not have to worry about implant rejection or allergic reactions to injectable solutions.
Our Plastic Surgeons
Practice Safe Fat Injection Techniques
In the Brazilian butt lift, fat is injected beneath the skin and within the fat layer of the buttocks. Deep injections within and below the gluteal muscles are associated with a high risk of fat embolism to the lung and heart.
To perform a safer surgery, the Tijuana, Mexico, plastic surgeons at Vive Plastic Surgery only inject fat superficially during BBL.
Non-surgical butt lift procedures are also available if you want a simpler option to refine your figure.
"Everything was outstanding
and extremely professional!"
5-Star Reviews
Vive has been amazing for planning for surgery.

Communication has been wonderful and on point. I can tell they are understanding and caring. I know they know what they are doing and are professionals.

This is going to be a new journey to begin with Vive.
View On Google
From the staff to the service, everything was outstanding and extremely professional! I love my results and I love Vive! dr Guadalajara was the most professional and kind doctor. He was patient and really took the time to understand what I wanted. The nurses treated me like family and I felt very comfortable and safe. This is my second time at vive and I will never go anywhere else. Also thank you to Liz G and Jocelyn for the best nurses!
View On Google
The BBL Recovery Process
Most butt lift patients can return to a desk job within one week. Returning to full activity levels varies case by case, but this usually occurs in two to three weeks.
Our patients can rest with peace of mind as they recover. You will have access to round-the-clock care at our Tijuana, Mexico, recovery house. That way, you can heal worry-free.
While healing, you must wear a special garment to control swelling from a Brazilian butt lift. It is recommended that you purchase a BBL pillow as well. Finally, you must keep the area clean, so that it can heal easily.
Heal Comfortably
At Our Recovery House
What Are the Risks and Complications
Associated With a Brazilian Butt Lift Surgery?
The risks of a fat grafting butt lift are similar to those of liposuction and fat grafting in other parts of the body.
As with any surgery, there is always the risk of infection, bleeding, and scarring. There is a 30% chance of fat re-absorption after butt enhancement causing a loss of injected volume. Risks will vary depending on the patient.
There is an increased mortality risk associated with intra-muscle injections compared to subcutaneous fat injections due to possible fat emboli. Our plastic surgeons perform superficial injections to reduce the risk of fat emboli.